Sale price
$39.99
Regular price
$0.00
Unit price
per
SAVE %
Sold out
Free Shipping

Easy Returns

Fast Support
Talking Flashcards Adventure Toy
Sale price
$39.99
Regular price
$0.00
Unit price
per
SAVE %
Sold out
 Embark on an exciting learning journey with our Talking Flashcards Adventure Toy! 
Designed to captivate young minds, this interactive toy takes language learning to new heights. Get ready for a thrilling adventure filled with educational exploration and engaging play.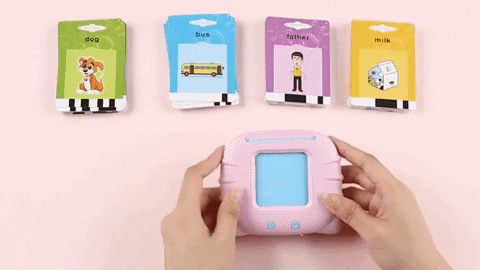 Discover and Learn
Help your child learn about the world and communicate more effectively with 112 double-sided flashcards - 224 sight words, covering 12 themes including animals, vehicles, nature, colors, and more. Encourage them to take a break from screens and start exploring the world around them with engaging fun activities. Each flashcard comes to life with vivid illustrations and clear audio pronunciations, creating an immersive learning experience.
Interactive Playtime
Our adventure toy goes beyond traditional flashcards. With built-in sensors, it recognizes and responds to each flashcard, bringing the learning adventure to life. Watch as your child's eyes light up with excitement as they hear realistic animal sounds, vehicle noises, and fascinating facts. The interactive nature of this toy enhances engagement and boosts cognitive development.
Engaging and Educational
 Spark your child's curiosity and ignite a love for learning. The Talking Flashcards Adventure Toy encourages language development, memory retention, and critical thinking skills. It's an excellent tool for building vocabulary, improving pronunciation, and expanding knowledge. Make learning a thrilling experience! Great autism sensory toy for autistic children.
Quality and Safety
We prioritize your child's well-being. The Toy is made from high-quality materials that are safe, durable, and free from harmful chemicals. The cards feature rounded edges for added safety during playtime. As an interactive toy, it also helps your children keep away from TV, phone, and computer screens. There is no electronic screen on the device, and no internet is required.
Convenient and User-Friendly
The Toy's sound volume is adjustable, and the built-in rechargeable battery can last up to 4 hours, so you won't need to charge frequently. When kids stop playing, after five minutes the toy automatically shuts off to prevent battery drain.
Easy to Use for Toddlers
It is easy for little toddlers to use—just insert the cards into the reading machine, and it works. This Montessori toy is small in size, making it easy to handle and carry.
Perfect Gift
Looking for a unique and educational gift? Our Talking Flashcards Adventure Toy is an ideal choice. Whether it's for a birthday, holiday, or special occasion, this toy will delight children and provide hours of interactive learning fun.
View full details